Biography
Fragile Creatures released their second album, Punk Yacht, in August 2020. The title is a playful nod to their genre-defying approach to rock. Formed in Brighton in 2012, their debut album And Other Wild Things was released in Spring 2016, after narrowly escaping development hell. Following this they decided to adopt a fully independent approach, learning how to record themselves while lead-singer Adam Kidd took an MA in the music industry at WaterBear college. In May 2019 they self-released Heart Beat EP to test the water and build anticipation for the Punk Yacht record. Everything was going according to plan with a series of psych pop singles in late 2019/early 2020: A New Low, Phantom Limb, Big Red Button - each gaining more attention than the last - when the coronavirus pandemic struck and made all plans impossible. Eventually the band settled on an August release for the album, 6 months delayed from their original plans and with a heavily anticipated show abandoned, the band still thrived through the lockdowns by learning how to record themselves remotely, launching their #TuesdayTunes series with a cover of Pink Floyd's Wish You Were Here as a tribute to all the loved ones everyone was missing, before creating stripped-back lockdown live versions of every track from the new album. Ultimately 2020 was a hog of a year, but Fragile Creatures enter 2021 with two albums and two EPs under their belt, and a whole bunch of new music bubbling away. Punk Yacht showcased the lo-fi sound and rampant eclecticism of the band, who are eager to get back to work crafting a new album for 2021 in spite of the chaos in the world.
Fragile Creatures are the main project from Brighton musician Adam Kidd, a singer-songwriter who's been playing the local scene since his early teens, the son of Jeremy Kidd, lead-singer from classic 80s indie band and John Peel favourite the Red Guitars. Adam has played side-man for groups like The Fiction Aisle, Fierce Friend, and The Mojo Fins, whilst quietly working away on solo projects and fronting the Fragile Creatures.
The core of the band; singer-songwriters Adam Kidd and Aaron Kieran Neville, along with lead-guitarist Tom Alty, met at secondary school in Hove, where they became close friends, and played in their earliest bands: cheeky young faces regularly performing on Brighton's late 90s pub gig scene. After a brief hiatus through university days a prototype Fragile Creatures scraped together enough money to record an album (as Adam Kidd Band). That recording has never been released but it led to signing an independent publishing deal, leading to a period of development where the band found their rhythm section of James Crump on drums and Adam Whittle on bass guitar. Having played in aggressive alt-rock bands through the early noughties, Kidd went back to his roots to establish the Fragile Creatures sound, revisiting childhood favourites like Blur, Bowie, and the Beatles, while Neville's contributions tend more towards 80s pop rock, referencing artists like The Police, Phil Collins, and Prince.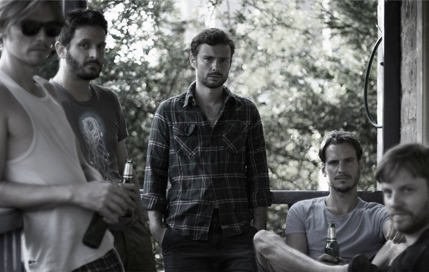 Fragile Creatures (L-R: Adam Kidd, Adam Whittles, James Crump, Aaron Neville, Tom Alty.)
And Other Wild Things was recorded in Brighton and Bath, produced by Stuart Bruce (Band Aid, Duran Duran, Yes). Those fruitful, productive sessions were marred by tragedy and delay, though, as the band's publisher David Vatchnadze passed away after initial sessions in Brighton Electric. This lead to a year's delay before recording could be continued. Without Vatchnadze steering the ship further complications ensued, meaning when the album was finally released in March 2016, three years after sessions had begun, the band struggled to reignite the momentum their self-released Fragile Creatures EP had created in 2014. And Other Wild Things, released on local label Brightonsfinest Presents, got an enthusiastic response with radio support from Tom Robinson (BBC 6Music, Melita Dennet (BBC South Introducing), Absolute Radio, and local Brighton stations Juice FM, and Radio Reverb, but the band couldn't help wanting to move on to fresher material and never took the record on the road to the extent they would have liked.

Eager to avoid repeating issues that made the their debut album's birth so complicated, the band took a half-step back to refocus, not just on writing this time, but on recording too. Having spent the last couple of years under the radar, experimenting with self-recording on a shoestring budget in their rehearsal studio, the band wrote an uncompromising set of new material, embracing the DIY approach, and tapping into the fun that brought them together as musicians and friends in the first place. Released on May 3rd 2019: Heart Beat EP was a great introduction to their new sound and fully independet approach. Typically eclectic it moved stylistically from 80s pop (Heartstrings - featuring a lead vocal from Neville) to emotive indie-rock (Falling) via punchy power pop (Can You?) and dreamy anarcho-funk (Little Man).

By autumn 2019 they were back with their first Punk Yacht single 'A New Low' having partnered with the mixing team of old friends Aaron and Tristan Maclenahan (ex-80s Matchbox B-Line Disaster, 12 Stone Toddler, Chung King) and sharpened up their own production skills. Complications from the coronavirus crisis forced them to delay their original spring release plan, but the band swiftly adapted – recording and releasing a lockdown-live cover and video of Wish You Were Here in April 2020 with all profits from Bandcamp downloads donated to #SaveOurVenues, and re-setting their release plans for August. At the same time the band began recording and releasing a weekly web series to promote Punk Yacht. In lieu of any opportunities to perform live the band recorded in a round-robin stlye from their own homes in the lockdown, re-wroking acoustic led versions of the Punk Yacht tracks and cover versions that explore their influences. A new track can be expected every Tuesday on their YouTube channel for their #TuesdayTunes series. The band rounded out 2020 with a livestream performance from their rehearsal room, for the Vulfpeck fan community curated online festival, Live From Lonely Town, having found some kindred spirits among the fanbase of the world's most meme-ready funk band. Eager to get back into the studio the band are plotting to return and track more live-from-the-studio performances for 2021, whilst getting to work on recording a fresh bag full of tunes written during the long periods of isolations through 2020's lockdowns.



Fragile Creatures are:
Adam Kidd - vocals, guitar
Aaron Neville - vocals, keyboards
Tom Alty - lead guitar, vocals
James Crump - drums
Adam Whittles - bass guitar, vocals